Tattoo Removal in Seattle just became easier. With Pico technology we can remove all colors of tattoos on all skin types in half the time!
Thanks to the revolutionary advancements in laser technology, Well Medical Arts and our new Enlighten™ tattoo removal machine with Pico technology will quickly rid you of what you would like to forget. The de-inking process has progressed from a so-so, time-consuming process to a much faster, safe and effective method. Finally, that unforgettable tattoo can become forgotten with the most advanced laser tattoo removal technology available in the market—Enlighten™. We are proud to have one of the only machines of this caliber in the Seattle area.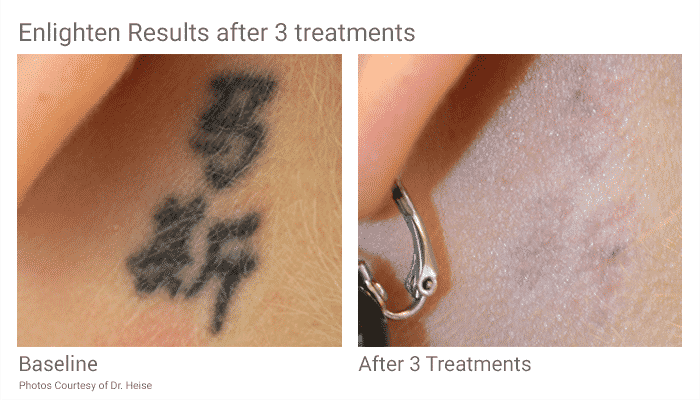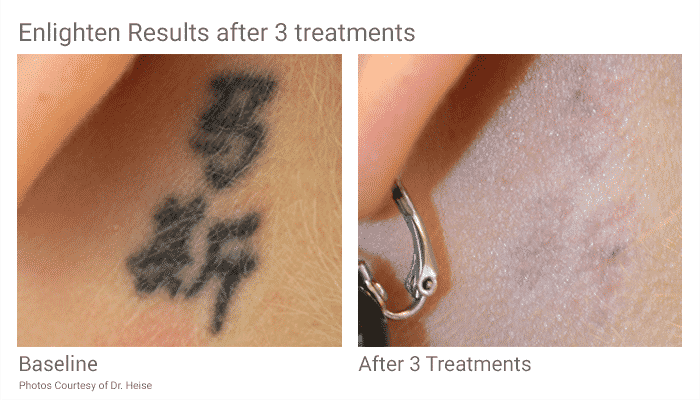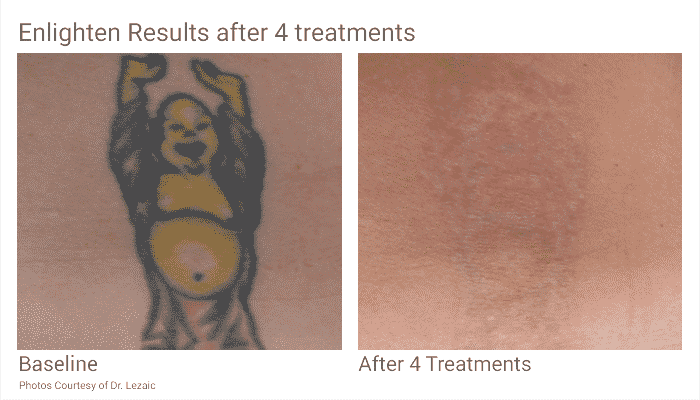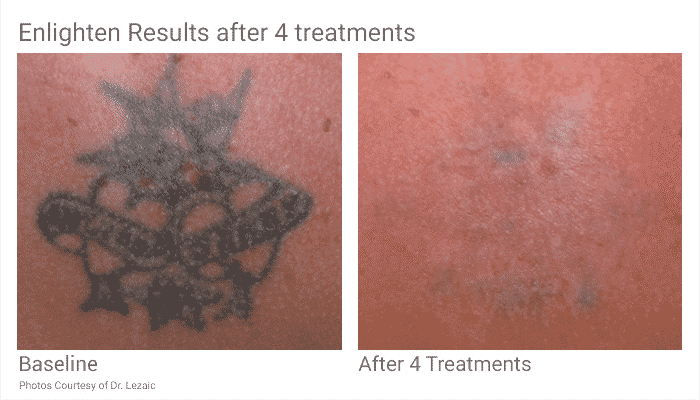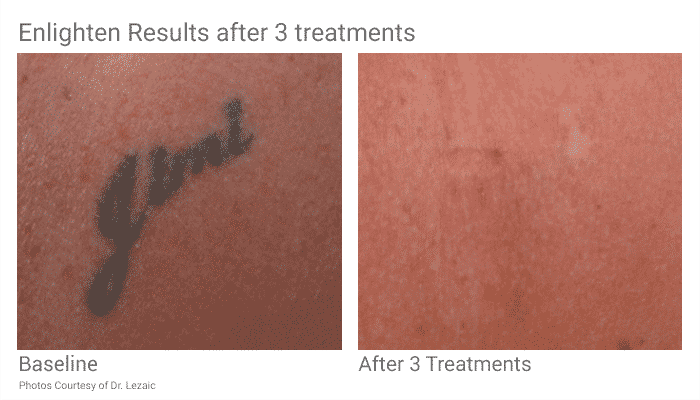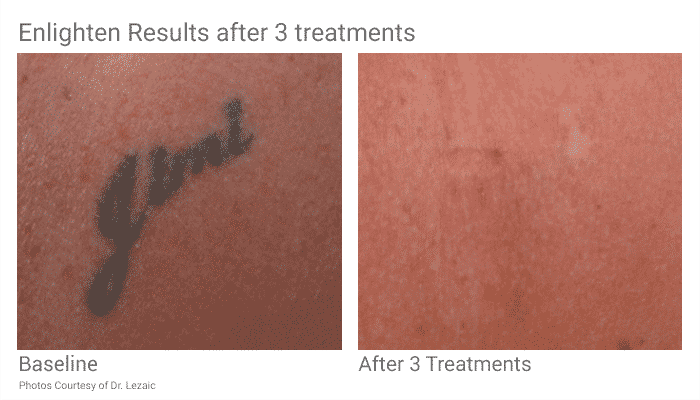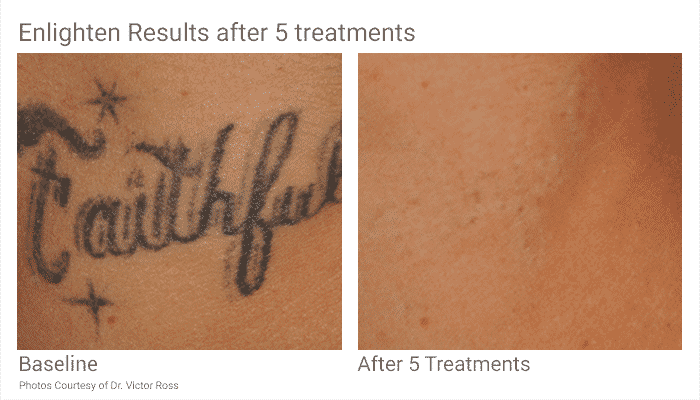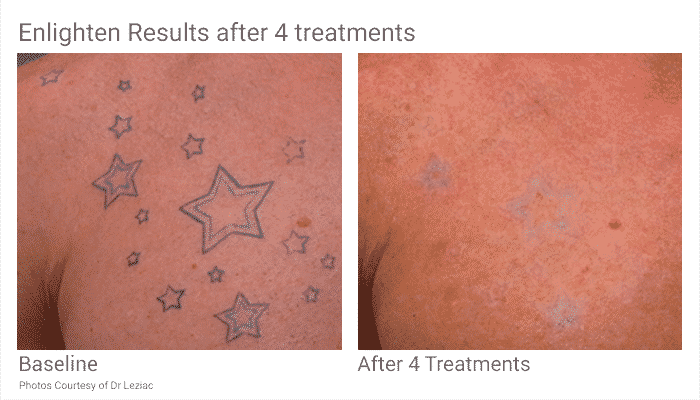 How much does laser tattoo removal cost in Seattle?
Because we use the most advanced laser available, we can generally complete your tattoo removal in 40% fewer treatments than other providers. The number of treatments depends on many factors including your metabolism and your tattoo location, color and age. At Well Medical Arts we take many consideration into determining the price of tattoo removal but start our process based on the square inch size of your tattoo. Come in for a complimentary consultation and we will explain all the details and give you an exact price per treatment based on your tattoo.
How does laser tattoo removal work?
Tattoos are actually clumps of ink pigment located deep within the skin. When a laser strikes the tattoo, it will break the clumps of pigment into smaller particles. Eventually, the particles become small enough that the body's immune system (white blood cells) can dispose of the pigment. When done properly, no scarring occurs.
Introduced in 2014, enlighten™ is the most advanced laser system for the effective and safe removal of tattoos and benign pigmented lesions.
How does Enlighten laser tattoo removal differ from other laser tattoo removal options?
Enlighten features extremely short and high-power picosecond laser pulses which efficiently and quickly break down the ink particles in tattoos. A 'picosecond' is one-trillionth of a second, and is 1,000 times shorter than the 'nanosecond' pulses used in existing lasers for tattoo removal. Picosecond laser pulses have been shown to remove tattoos more completely and in fewer treatment sessions than traditional lasers used historically in the past.
How many treatments are required?
The total number of treatments vary depending on many factors including the composition, depth and the color of the ink, as well as the size of the tattoo and location on your body. Your metabolism also plays a factor in how quickly your tattoo can be removed. You should be prepared for multiple treatment sessions to see full clearance of your tattoo. During your initial consultation the Master Esthetician will be able to give you greater insight as to what your tattoo removal treatments will entail.
Why are multiple sessions required?
Tattoo ink is deposited deep in the skin. In order to reach all of the ink in the skin, multiple treatment sessions are needed for clearance. Depth, size and color of the tattoo also impact the number of treatments needed. At each visit we will break the ink into smaller and smaller pieces so that body's immune system (white blood cells) can dispose of the pigment.
Will the tattoo completely disappear?
In most cases, yes. However, it is very important to know that some ink colors are more difficult to clear than others. Come in for a consultation to learn more. It should also be noted that there is a possibility of slight pigment change where the ink once was.
Is the procedure painful?
Patients compare the procedure to a rubber band being snapped against their skin. The smaller the tattoo the less painful the treatment. We offer a topical anesthetic that can minimize any discomfort that you may encounter. We also use a chiller to cool the skin as it is being treated. In most cases, especially with smaller tattoos, the chiller is sufficient  in managing any discomfort during treatment.
Are there any side effects following the treatment?
Most patients experience redness and swelling immediately following the treatment. These side effects normally resolve quickly.
Is there any downtime associated with the treatment?
Many patients report some redness and swelling. It usually doesn't last long, and you can go about your normal work and family life immediately after treatment and throughout the process.
Complimentary Tattoo Removal consultations and price quotes.
We understands that each of our clients has their own needs based on tattoo size, ink type, ink depth, skin tone and a series of other personalized factors. Our complimentary consultations will provide you the peace of mind to make your decision about tattoo removal. We'll examine your tattoo and define quotes for pricing. We offer pricing solutions for single treatments and "treat to complete" packages. Call one of our patient care coordinators at 206-935-5689 to schedule your appointment or send us an email through the form below, please include your phone number so we may call you back.